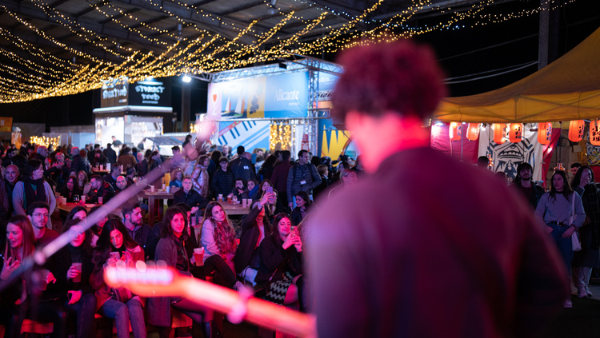 17 Jan

The concerts organised by the Department in Alicante Puerto de Salida welcomed more than 20,000 people
The concert programme designed by the Generalitat from 7 to 15 January was one of the main attractions for the public at the Ocean Live Park
Around 20,000 people were able to enjoy the concert programme organised by the Government of Comunidad Valenciana through the Department of Innovation and Alicante Port of Departure between the 7th and 15th January, to mark the start of The Ocean Race Round the World Yacht Race.
This year's edition of Alicante Port of Departure has been visited by 303,000 people throughout the week, with a daily average of 35,000 visitors, the highest figure of the five editions, with Saturday and Sunday being the busiest days.
The Ocean Live Park, in the area of the Levante Quays, has become an exceptional meeting place with an extensive participative programme of sporting, exhibition, gastronomic, cultural, leisure, educational, musical and technological activities for all ages.
The five concerts programmed have been one of the highlights of the programme, with an excellent reception from the public. This is the case of the double concert offered on Saturday 7, by two of the leading indie bands on the national scene, Second + Viva Suecia, which sold out in the first few days and hung the full capacity sign with a total of 6,000 attendees.
Second, who recently announced their decision to split up after 25 years of career and 10 albums released, offered at the Ocean Live Park what was the last chance for their fans to see them live in Alicante. For their part, Viva Suecia's performance was part of their 'El amor de la clase que sea' tour, with a new album that is proving to be a great success after several weeks at number one on the Spanish charts.
Destripando la historia', on Sunday 8 at midday, also had an audience of 3,000 people. This entertaining group parodies with characteristic humour in song form everything from children's stories to mythological characters and popular culture, which delighted a more family-oriented audience.
The second weekend of Alicante Puerto de Salida kicked off, musically speaking, with a concert by Cheti on Friday 13 January, in this case free of charge, which brought together 3,000 people. This young Elche-born singer-songwriter's style tends to move between pop, flamenco and Latin rhythms, with light, catchy melodies accompanied by positive lyrics and evoking everyday images that represent us all.
The concert series continued on Saturday the 14th at midday with the musical show 'Rock en familia. Años 80′, also free of charge, which brought together 4,000 people of all ages. This musical group brought the most popular songs by the most legendary international pop and rock artists and bands such as Queen, AC/DC, Metallica, Guns and Roses, The Beatles, Mecano, Michael Jackson, etc., to the youngest children and their families.
Saturday night was closed by another double concert, by Sidecars and Sidonie, two bands well known to the public of Alicante that brought together nearly 4,000 people. Sidecars came to present their new album 'Trece', just out of the oven, released in September 2022, while Sidonie, with more than half a million monthly listeners on Spotify, reviewed their great musical journey of 25 years and 10 studio albums.
This musical offer was also complemented by the free performances offered throughout the week in the Food Market area, on Pier 14, by The Liverpool Band, Finde Fantasma, Mr Hide, Vera Green and Xeco Rojo.