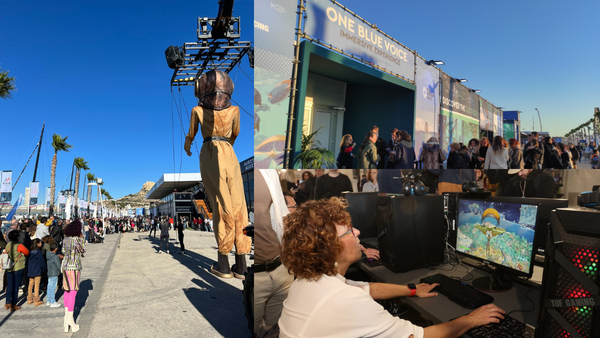 07 Jan

More than 20,000 visitors enjoy the leisure, gaming and nautical culture at the Alicante Puerto de Salida venue
The Ocean Live Park venue recorded a large number of visitors on the first day of the programme designed to mark the start of The Ocean Race Round the World Race.

 
Alicante, Saturday 7th January 2023.- On its first day, Alicante Port of Departure was visited by more than 20,000 people who were able to enjoy the extensive programme of leisure, gaming and nautical culture activities organised on the occasion of the start of the Round the World Race of The Ocean Race. 
The Generalitat Valenciana, through the Department of Innovation and the Digital Transformation Projects Society (SPTD), has programmed concerts, entertainment, sailing initiation, gaming and eSports activities, entertainment for the whole family, mostly free of charge, which will be held until 15th January at the Ocean Live Park (formerly known as the Race Village),
The day kicked off at 10:00 am with the opening of Ocean Live Park and a welcome from the sailors. Afterwards, the public were treated to various street entertainment activities, such as a Pirate March parade and a show with a Giant Diver sculpture.
The public was able to get a close-up view of the 11 boats – 6 of the VO65 class and 5 IMOCAs – moored on the pontoons next to Pier 12, and visit the spaces dedicated to Sustainability, Virtual Reality, the Infotourist tent of Turisme and the Alicante City&Beach Board – with presentations, showcooking and tasting sessions,  showcooking and rice tastings–, the Ocean Race Museum, children's workshops, the Alicante Digital Gaming pavilion, among other spaces, as well as enjoying the music and the Food Market on Pier 14, among other activities.
The Councillor for Innovation, Universities, Science and Digital Society, Josefina Bueno, visited the Ocean Live Park to see first-hand the tents related to the world of sailing, sustainability and innovation. She was accompanied by the Director General of Tourism, Herick Campos, the Director General of SPTD, Antonio Rodes, the President of The Ocean Race, Richard Brisius and the Director of the regatta, Johan Salem, among other authorities.
Throughout the day, the ORC regatta The Ocean Race also took place, organised by the Real Club de Regatas de Alicante, – sponsor of Alicante Puerto de Salida – in which 30 boats took part. The victories went to Spaniard (ORC A) of Juan Rodríguez, Cool Wave (ORC B) of Luis Rodríguez, Nauta III (Promo A) and Increíble (Promo B) of Pedro García.
The Alicante Digital Gaming tent has had an intense activity, including the eSailing World Championship Final, and the Meet & Greet and show with Carlitos and Ache. The closing of the day had a star programme, with the concert by Viva Suecia and Second, in the Muelle 14 area, which sold out in the first few days.