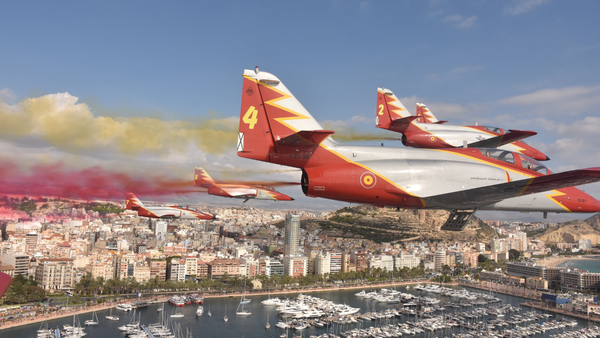 12 Jan

This Sunday, Alicante Port of Departure will feature an aerial display by the Eagle Patrol to bid farewell to the boats of The Ocean Race.
The aerobatic patrol will perform a show over the Port of Alicante on 15th January at 4.30pm to mark the start of the Round the World Race.
Alicante, Thursday 12th January 2023.- The Eagle Patrol of the Spanish Air and Space Force will perform an aerial display over the Port of Alicante this Sunday 15th January at 16:30h, to mark the departure of the boats for the start of the Round the World Sailing Tour of The Ocean Race.
The Air and Space Army aerobatic patrol will have five planes that will perform an emblematic flight over the seafront of the city of Alicante, coinciding with the starting signal for the boats to undertake the transoceanic round trip.
This will be the last and great day of the Alicante Port of Departure programme, the global event organised by the Generalitat Valenciana which, since 7 January, has been offering an extensive programme of leisure activities based on nautical sport, innovation and environmental sustainability.
 On this occasion, the composition of the Eagle Patrol will be made up of five Spanish CASA C-101 aircraft, a type of two-seater aircraft that can reach a speed of 770 km/h and an altitude of 42,000 feet (12.6 km).  During this Sunday's display, they will perform an 'aerial dance' and aerobatics over the Alicante sky displaying the colours of the Spanish flag.