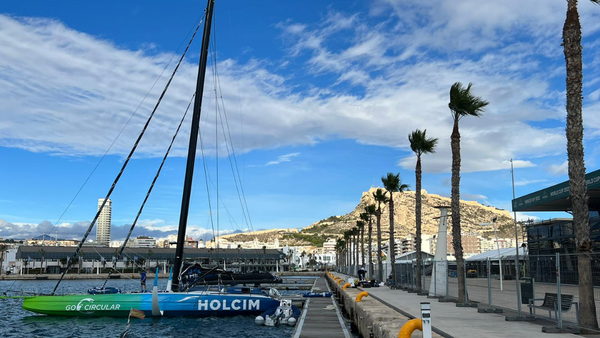 13 Dec

Alicante Start Port of the Ocean Race gets the first crafts IMOCA

Alicante, December 13, 2022.- Alicante has begun to receive the first IMOCA type boats that have arrived at the Levante Dock to participate in the next edition of the world tour of The Ocean Race, whose departure will be held from 7 to 15 January 2023.

The IMOCA of Team Holcim PRB arrived last Saturday, while Team Malizia arrived yesterday Sunday and Biotherm Racing is scheduled to arrive late this Monday. These boats, the true protagonists of the test, join some of the V065 that are already in Alicante. Once in Port, the three boats will undergo a comprehensive maintenance check and a tune-up that will allow them to be ready for the start of the legendary offshore regatta.

Another part of the boats that will participate in the regatta is carrying out their preparation tasks in other ports such as Valencia and Barcelona — 11th Hour Racing Team and GUYOT Environnement is in Valencia and Guyot environnement Team Europe in Barcelona –, and they plan to arrive in Alicante in the coming weeks in order to make the pre-assembly and assembly call.

This edition of The Ocean Race will bring important innovations, such as the inclusion, for the first time, of two classes of boats: the IMOCA 60 class, high-performance and with foils, and the VO65 class of one-design boats that have already taken part in previous editions. .

The three boats that have arrived in the last few hours belong to the IMOCA class, better known for their solo or two-man regattas, they will compete with a full crew in their first participation in The Ocean Race.

IMOCAs use a developmental design rule that allows designers to experiment with hull and sail shapes within set parameters. However, the masts, booms and standing rigging are of unique design.

IMOCAs also have a large sail area and a raked keel, but the class rules also allow the use of retractable foils which further increase performance by lifting the boat partially out of the water.

The characteristics of these boats are the following:
60 foot (18.3 meter) monohull boats built in carbon.
Designers can experiment with hull shapes and sails within of established parameters.
It competes with mixed crews of four or five sailors.
A pivoting keel and a pair of foils dramatically increase performance.
Capable of traveling more than 600 nautical miles in 24 hours.